The University's ongoing Interfaith Dialogue Dinner Series, "Common and Diverse Ground: Raising Consciousnesses by Acknowledging the 'Hidden' Things that Divide Us," continues on Monday, Nov. 11, with the second and final dialogue dinner of the fall semester.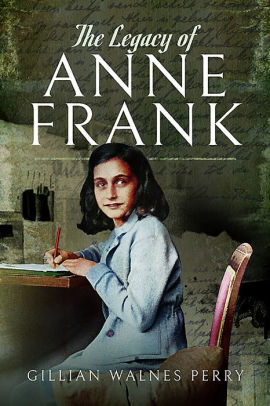 The theme of the Nov. 11 dialogue dinner is "The Surprising Global Legacy of Anne Frank." Gillian Walnes Perry, co-founder and honorary vice president of the Anne Frank Trust UK and author of "The Legacy of Anne Frank" (Pen and Sword, 2018), is the dialogue co-facilitator. The evening is co-sponsored by Syracuse Hillel and will take place at the Winnick Hillel Center for Jewish Life, 102 Walnut Place. Dinner will begin at 5:30 p.m., with the dialogue from 6 to 8 p.m.
"I am so delighted to address the Interfaith Dialogue Dinner on Nov. 11," says Walnes Perry. "The aims and inclusive ethos of this popular event, held for both university and public, sit so well with the work and mission of the Anne Frank educational work worldwide, including the Anne Frank Center for Mutual Respect in New York. I will be relating how learning about Anne Frank has affected young people for the good in some of the world's most conflicted and turbulent regions, and how Anne's diary inspired people such as Nelson Mandela. I hope this will be a springboard for some very exciting Anne Frank educational activity in Syracuse."
The gathering will include a shared meal, facilitated dialogue and two periods of mindful meditation (at the beginning and the end). American Sign Language (ASL) interpretation and inclusive food will be provided. Requests for accommodations or food queries should be made in advance by contacting Bonnie Shoultz at bshoultz@syr.edu.
The fall 2019 "Common and Diverse Ground" series is co-sponsored by Hendricks Chapel, the Office of Interdisciplinary Programs and Outreach in the Burton Blatt Institute, Intergroup Dialogue, and the Office of Diversity and Inclusion. For several years, the series has brought members of the campus community together in an inclusive environment to explore challenging contemporary issues.
"The Interfaith Dialogue Dinner Series seeks to serve as a direct expression of Syracuse University's longstanding commitment to fostering and supporting an inclusive, accessible campus community of opportunity for a richly diverse student body," says the Rev. Brian Konkol, dean of Hendricks Chapel. "We at Hendricks Chapel are honored to support these important opportunities alongside such committed campus and community partners, because together we affirm that education informed by multiple points of view, life experiences, ethnicities, cultures, abilities and belief systems is essential to academic excellence."
Learn more about the Nov. 11 dialogue dinner on the University Events Calendar event posting. For more information on the series, contact Hendricks Chapel at chapel@syr.edu or 315.443.2901.